Below is a cutdown/simplified version of a PFC boost stage. In some cycles the diode fails to turn off (resulting several µs and several amps of reverse current with simulation points).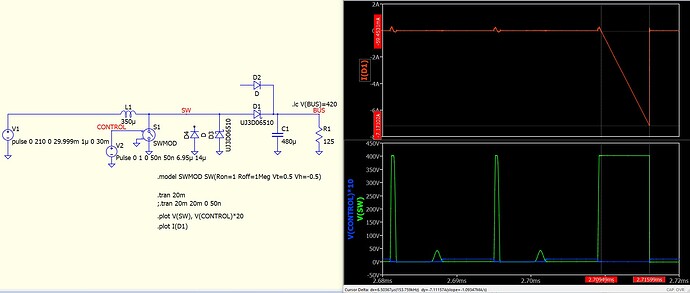 Notes:
Happens with real and ideal diode pairs
Simulation time is long (to cover a 50Hz cycle) but have found the issue can be mostly fixed by setting the max step time to 50ns (much smaller max step with ideal diodes; setting max step increases the processing time and becomes an issue once the full circuit is added back in)
In the full version I fixed a timing issue on a Schmitt trigger by using TTOL (works nicely as it only increased the number of points when required) but can't seem to find a similar feature on a diode.
Any help or explanation appreciated.