Hi,
I set up a RTLS consisting of 4 anchors and 1 tag in my personal room in my apartment. The X and Y coordinates are okay but the Z coordinates are pretty unreliable. Most of the time LOS between tag and all 4 anchors exists. The tag's height often is around 1.8m. Only in the center of my room I get kind of accurate Z coordinates.
I have a few objects in my room that have a metallic outside, e.g. TV, shelf, chairs, laptop and Desktop PC, lights etc. With LOS, metallic objects shouldn't disrupt the location calculations, right? That's what I at least got out of the documents in this post.
I know this is in general not a perfect environment for a UWB RTLS, but that's actually what I want to achieve. I want to get as accurate positions as possible in a real-life environment (not a warehouse for example).
Please have a look into the schematics of my room attached below. All anchors have at least 40cm space to a wall.
I consider moving the anchors to the centers of each wall so that they are as evenly as possible distributed over the room.
Or, as I read in another topic, should I lower the Z coordinates of e.g. Anchor 1 and Anchor 3 to a much smaller value (1m)?.
What would give better results?
Or are there any other possibilities to tweak the Z coordinate? For my use case, a Z coordinate as good as the X and Y ones is needed.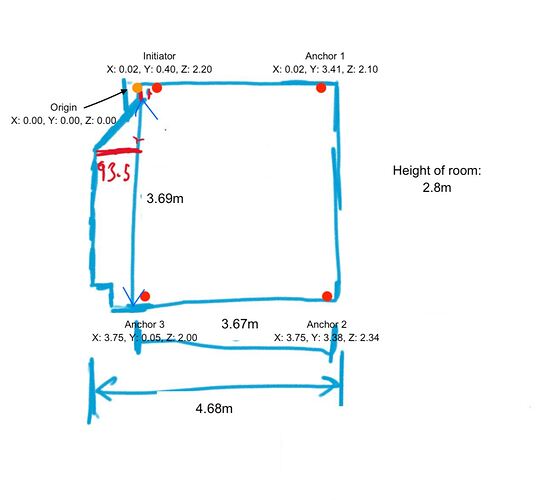 Regards, Max