Hey folks,
i have some questions about the transmit power and the reachable transmit range.
The DW 1000 product brief says the transmit power ist -14 dBm or -10 dBm and the transmit power density is ← 41,3 dBm / MHz.
Am i right with the calculation (The 500 MHz and 1330 MHz is the Transmit Bandwith):
dBm = -41,3 dBm / MHz + 10 log (500 MHz) = -14.3 dBm
dBm = -41,3 dBm / MHz + 10 log (1330 MHz) = -10 dBm
With this Transmit Power (TXpower), the receiver sensitivity (DW1000 Datasheet Table 6, p. 11, RXsens) and the free-space path loss (Free-space path loss - Wikipedia) it should be possible to calculate the transmit range: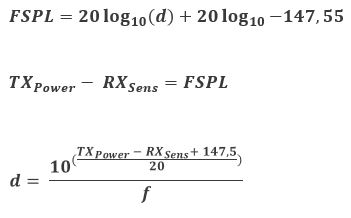 I calculated this with the four different center frequencies and the three differen baudrates. The results are listet in the following table.

Can you tell me if my calculation is correct and plausible or are there failures in my thoughts?
It seems pretty plausible to me, because the ~300m range from the DW1000 product brief are nearly reached with this calculation and also the ~60m from the DW1001 product brief are calculated right with the 6,5 GHz center frequency and the 6,8 Mbps baudrate.
The reason for my calculations is the transmit power densitiy limit in car mounted devices. The ETSI-Norm EN 302 065-3 limit the transmit power density to -53,3 dBm / MHz at car mounted devices. And i need to know the reachable ranges for my device.
Regards
Yves