Hello everyone, I was conducting some experiments using the ex_06b_ss_twr_resp and ex_06a_ss_twr_init example codes.
I found something really unexpected. As far as I know, in SS-TWR, as the time reply increases, the effect of the clock offset error on the distance estimation also rises. Therefore, I would expect that when I changed the time reply from 300us to 4000us, the mean error would rocket. However, what the outcomes showed was very different.
Below, there is a figure comparing my measurements. The mean error was calculated considering 15 samples.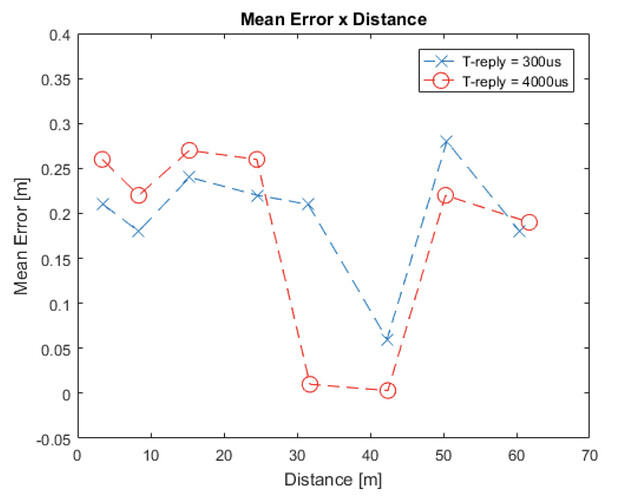 The configuration I used was: channel 2, PRF 64 MHz, 6.8Mbps, Preamble 64, SFD 8, the default antenna delay for TREK1000 (I am using EVB1000s from a TREK1000 kit), the function dwt_getrangebias from the TREK1000 source code and the two functions that increase performance in a preamble length of 64.
I suspect that since the initiator end of those example codes uses the carrier integrator to correct the range estimate calculation for the clock offset of the remote responder node, the increasing clock offset error becomes kind of negligible. Am I right?
Another question, are those results displayed in the figure good enough for SS-TWR systems?
Thank you very much for your time!