Hi, I'm trying to implement this 1 side (so basically one round trip) ranging scheme.
The problem so far is that the responder can receive the ranging request from the initiator, but when responder send back the respond message, with delayed transmission, the initiator consistently fails to receive it.
Code snippet below:
uint32 resp_tx_time;

                /* Retrieve poll reception timestamp. */
                poll_rx_ts = get_rx_timestamp_u64(); 

                /* Set send time for response. See NOTE 8 below. */
                resp_tx_time = (poll_rx_ts + (POLL_RX_TO_RESP_TX_DLY_UUS * UUS_TO_DWT_TIME)) >> 8; 
                dwt_setdelayedtrxtime(resp_tx_time);

                /* Set expected delay and timeout for final message reception. */
                dwt_setrxaftertxdelay(RESP_TX_TO_FINAL_RX_DLY_UUS); 
                dwt_setrxtimeout(FINAL_RX_TIMEOUT_UUS); 

                /* Write and send the response message. See NOTE 9 below.*/
		memcpy(&tx_resp_msg[11],&dist[TAG_ID],2);
                tx_resp_msg[ALL_MSG_SN_IDX] = frame_seq_nb;
                dwt_writetxdata(sizeof(tx_resp_msg), tx_resp_msg, 0); 
                dwt_writetxfctrl(sizeof(tx_resp_msg), 0); 
							 
                dwt_starttx(DWT_START_TX_DELAYED | DWT_RESPONSE_EXPECTED); 

If you interrupt one of the communications right in the middle and read the 0x2F register, you get a readout typically like this: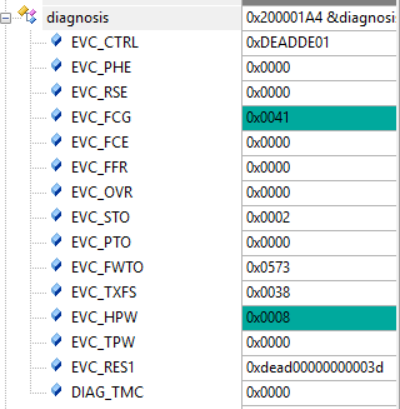 My questions are:
I get the feeling that my delayed sent is synchronized with the initiator's delayed receive, in a really bad way, in other words, the send misses the receiving window every time. Is this likely?

Other than #1, can you please share some of the possibilities regarding where the problems might be?

Other than reading 0xF and 0x2F - any other ways that I can get more diagnose information regarding where the problem lies?

Is the algorithm for calculating delayed transmission time correct?
Please help! Thanks in advance. And if further details are needed, feel free to ask, and I will update this thread promptly.