Hi all guys!
We tried to use the DWM1001 system (MDEK1001 kit with Decawave PANS) in a supermarket environment. You can find attached the map of the store: each yellow circle is an anchor (each anchor is about 10m away from the adjacent ones and placed at a height of about 5.5m), red,blue and yellow rectangles are the shelves that delimit the lanes (numbered from 1 to 23), blue dots are the test points exploited to evaluate the kit localization performance and black dashed line delimits the evaluation area.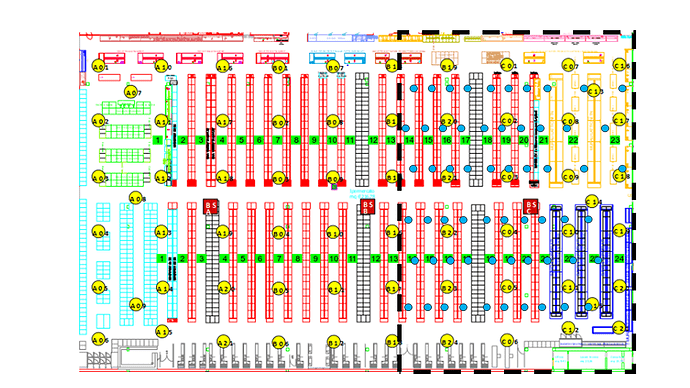 Each shelf has a variable height of up to about 2.5m/3m.
Each test point has been evaluted at 3 different heights along the shelf:
about 0.2m from the floor
about 1.5m from the floor
more than 2m from the floor
In the last setup (i.e. with the tag at more than 2m from the floor) we found a coverage in more than the 95% of the test points (for coverage I mean when the tag can range with at least 3 not-alligned anchors and then log its x,y position) with an average localization error of about 0.8m, that we think is a good result considering the environment.
We found more problems in the other 2 setups (with a lower tag height). Especially in the first one, with the tag height about 0.2m, we can not assure the coverage in about the 50% of the test points, and also the accuracy drops downs, with an average error of about 1.5m/2m (which makes the technology totally unsuitable for the purpose of distinguish each individual lane).
The second setup presents intermediate results between the other two.
So, I have some questions.
First of all, I would like to know if anyone here has already used this technology in a store environment and possibly could give me some feedbacks about his experience.
Then, I would like to know from UWB experts if metal shelves of that height can affect radio frequencies so much that they can cause 2m localization errors or even make the range of the tag with the anchors directly impossible, limiting in this way the coverage at low heights along the lanes.
Clearly, any advice about increasing coverage and accuracy in our setup and for our purpose is welcome, especially about increase coverage at low heights along the shelves.
I hope I have explained my problems succesfully, I did my best.
For any further clarification, do not have problem to let me know, I will try to explain better my setup and my encountered problems.
Thank you for your time and consideration!