Hello,
I want to use the DWM1001 system (MDEK1001 kit with Decawave PANS) in a large area where I need a lot of anchors (you can find attached the map of the area, each yellow circle is an anchor and each anchor is far from adjacent ones about 10m).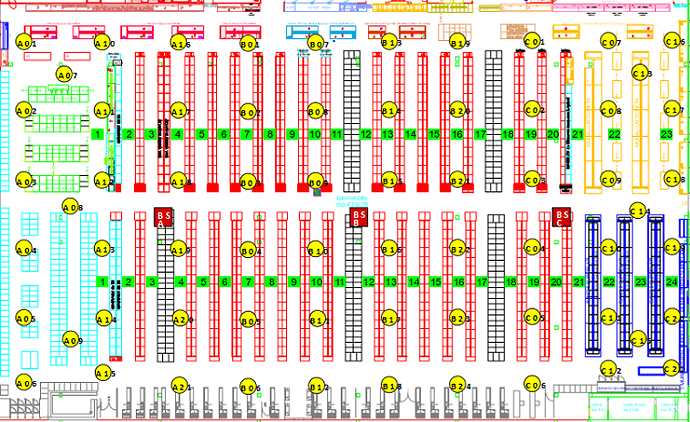 As you can see, the number of required anchors exceds the standard limit of 30 (I have already bought 3 MDEK1001 kits and I can cover more or less a half of the area). From documentation, I know that I can insert in a network more than 30 anchors, with some limitations:
Each anchor needs to be assigned a seat number between 0 and 29
No anchor is allowed to hear 2 anchors with the same seat number
All nodes must be synchronised with the superframe timing of the initiator
Maximum clock level is 127
I also know from previous questions in this forum that I can't set the seat number manually when I add the 31th anchor (or more)
So, the question is:
referring to my architecture, If we don't have the option of setting up the seat number manually for anchors with PANS, how can we enforce that one anchor is not hearing from 2 anchors with same seat number? I mean, setting seat numbers in the proper way I think I can fulfil limitation #2 but I don't know if it can be done letting the system assigning seat number in a sort of casual order.
Thank you!