Hi! I'm using dwm3000 in my stm32 project using the libdwt_uwb_driver-m4-hfp-6.0.7.a static library, and running out of flash memory.
As I look into the shared lib using a notepad I can see that the file includes the .obj for two other different types of DW devices, my total flash usage is high, and the static build analyzer sees the dw functions added thrice: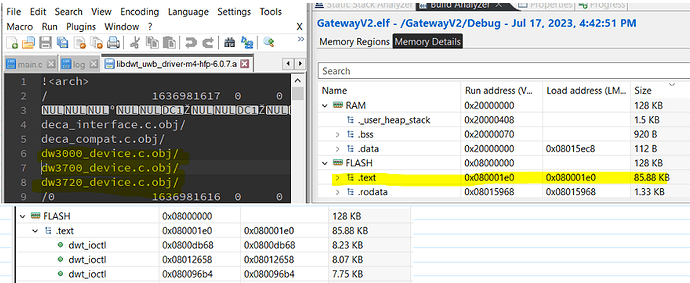 Then, if I straight up remove those two lines from the static library, it goes down tremendously:

That's an over 50k flash difference, almost half the total size of my stm32's flash.
Are those libraries necessary for the driver? Is there a "recommended" way to disable those libraries? will just removing them like I did work without breaking the driver? What can I do?
I'm adding the library this way: