Hi everyone,
I have been using DWM3000 for a while. I need to develop a system which measures the distance between two beacons with a 10 cm of accuracy in a short range, less than 1 meter.
For measuring, I send four messages. First, one from starter to repeater, then repeater, programs in DWM3000, sending another one to starter after 1.5ms. After receiving it, starter do the same and sends another one. And the repeater repeat this process again and sends final one with its timestamps.
Then the stater computes the distance. It computes three time differences by using: 1st and 2nd message, 2nd and 3rd one and 3rd and 4th message.
I have notice that a drift in the data appears, although both devices are static. I upload a couple of photos to explain it better. In the photo, x-axis represents the number of consecutive samples taken (500 samples) between samples there is a delay of 500 ms. The y-axis represents distance in mm. To calculate the distance, previously I have done a calibration process to calculate a experimental regresssion between ticks of DWM3000 and distance of both devices.
The x markers show distance calculated by each couple of messages.
In the upper graph of the photo, it can be seen distance measurement when both devices are over a table in front of each other. And in the lower one, one devices is located over a table and the other is in the wrist. In both cases real distance is 250mm.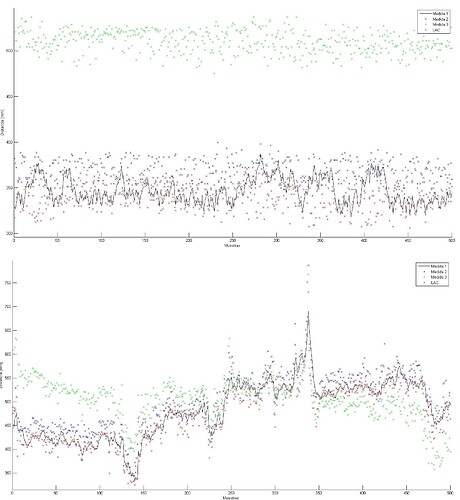 As you can see, in the first one there is an offset of 50mm, which is quite reasonable, plus some noise. In the second one, there is an offset which is varies along time and it is quite high, as large as measured distance.
I have two questions:
Which causes the drift in the second case if both devices are static? And if is it possible to minimize it?
Which RF configuration is more suitable for short range distance measurement