We're troubleshooting a new custom PCB design based around the DW3120, building on previous development done with the DWM3000EVB. Initial tests are a simple 2-way ranging and checking for errors. This is on a benchtop, with no more than 30 cm between modules, When using 2 custom PCBs, there are lots of errors. However if we use a custom PCB with a DWM3000EVB, the TWR works flawlessly, regardless of which board is set up as TX and RX. On the custom PCB we're using a 2.5ppm TCXO running from the 3.3V rail. The DW3120 is running all supplies from the same 3.3V rail, a configuration suggested in the DW3120 data sheet for reduced component count. I've read several posts on troubleshooting DW1000-based hardware, and understand that a clean, low-jitter clock is crucial, and at least for the DW1000 a separate LDO for the clock is strongly recommended. As far as I know here is no such recommendation for the DW3120. We have a ferrite bead and a 10uF with a 0.1uF capacitor at Vin of the TCXO. Here is a screen shot of the clock signal.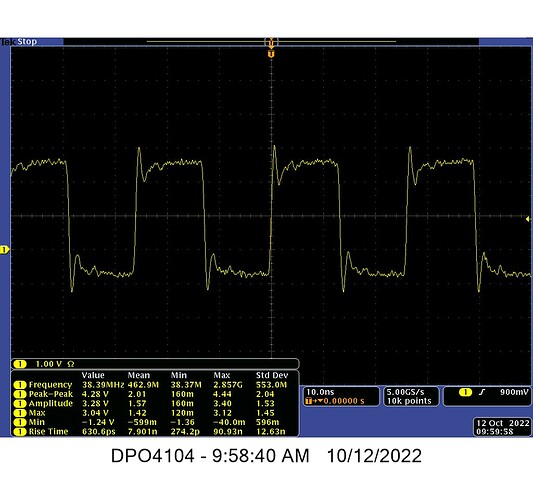 This was measured at the input of the DW3120. The signal path from the TCXO is a 24.9-ohm resistor in series at the output, then through the recommended 2200pF series capacitor to the DW3120 at XTI. XTO is left floating. I know the overshoot is not ideal, but I'm not sure if it's enough to cause a problem. I did a persistence measurement to check jitter and it appears to be well within spec (< 1 ps).
The fact that the custom PCB works fine when paired with a DW3000EVB is significant, but I'm not ready to state that the clock is not still at least part of the problem. For the next step, we plan to tune the termination to try and eliminate/reduce the overshoot. We might also try to work in an LDO mod (DW1000 recommendation) to see if that helps.
Any other suggestions for trouble-shooting would be greatly appreciated.
Thanks,
Doug