Hi, guys.
I'm trying to understand when the three C-Block code functions are called. I set up a basic C-Block component ("TestCmp") and added display() statements to display the calls. See attachments. I get curious results:
testcmp() is called six times with t=0
MaxExtStepSize() is called
testcmp() is called with t=9.765625e-06
MaxExtStepSize() is called
Trunc() is called twice with t=1.953125e-05 and *timestep=infinity (I never assign a value so t is expected)
testcmp() is called once with t=1.953125e-05
The last three are then repeated with t incrementing. I assume that I'm missing something or maybe have a bug that I just don't see. Does QSpice expect the code to respond differently when called repeatedly with the same parameter values?
---
I know that others have asked for an explanation for these functions and were pointed to the sample code (which I have reviewed). I respectfully submit that the sample code doesn't really explain when/why/in what order the functions are called. I would very much appreciate an explanation rather than continuing this step-wise journey in self-discovery.
---
Next issue.
The code itself simply sets Out = 1.0 + (t * 10.0). The second data point in the waveform viewer is identical to the first which seems like a bug.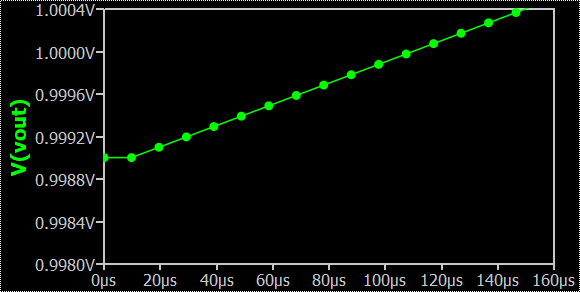 Note that the waveform window that opens with File | Export Data doesn't seem to have the extra leading datapoint.
---
FYI, I updated QSpice earlier today so I should be current.
TIA
– robert
temp.txt (5.6 KB)
testcmp.cpp.txt (3.4 KB)