Hello all,
We are designing modules which incorporate UWB DWM1000 modules for ranging estimation using TWR.
One module is powered by a battery through a LDO regulator. This module is used as a Tag.
The other module is powered from vehicle voltage (9V to 48V) and using a switching DC/DC regulator. This module is used as an Anchor.
NB: in the experiments below, the Anchor is powered directly from a Lab Power supply; we did not use the switching DC/DC as we encountered problems with the one implemented.
On both modules, we observe voltage drops when the transceiver is activated (and mostly in RX).
On the anchor side, which listens for incoming packets using Sniffing mode, we observe voltage variations. Same behavior is observed on the current (but no screenshot).
Sniffing configuration is 64µs Off and 64µs On, and is perfectly coherent with the voltage/current variations.
I cannot add the screenshot, if needed, I'll find a way to transmit it.
On the following screenshot, we observe the voltages of the two modules.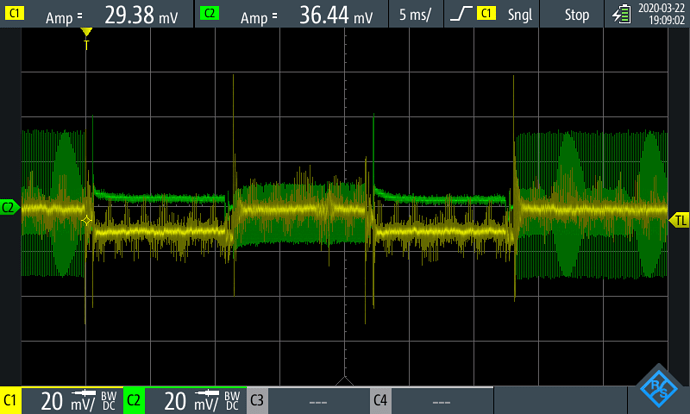 Yellow trace is for the Tag and Green trace is for the Anchor. The sequence observed is the complete exchange for TWR using three messages plus an extra message.
Each time one of the module transceiver is turned on in RX, the voltage drops. The drop on the Tag side is small. However, on the anchor side, the voltage drop is more important.
Do you have some insights on how to build the power supply for the DWM1000 to avoid such behaviors?
Do we need extra capacitors, not all of the necessary are included in the module ?
Thank you for your help,
Best regards,
Aleks